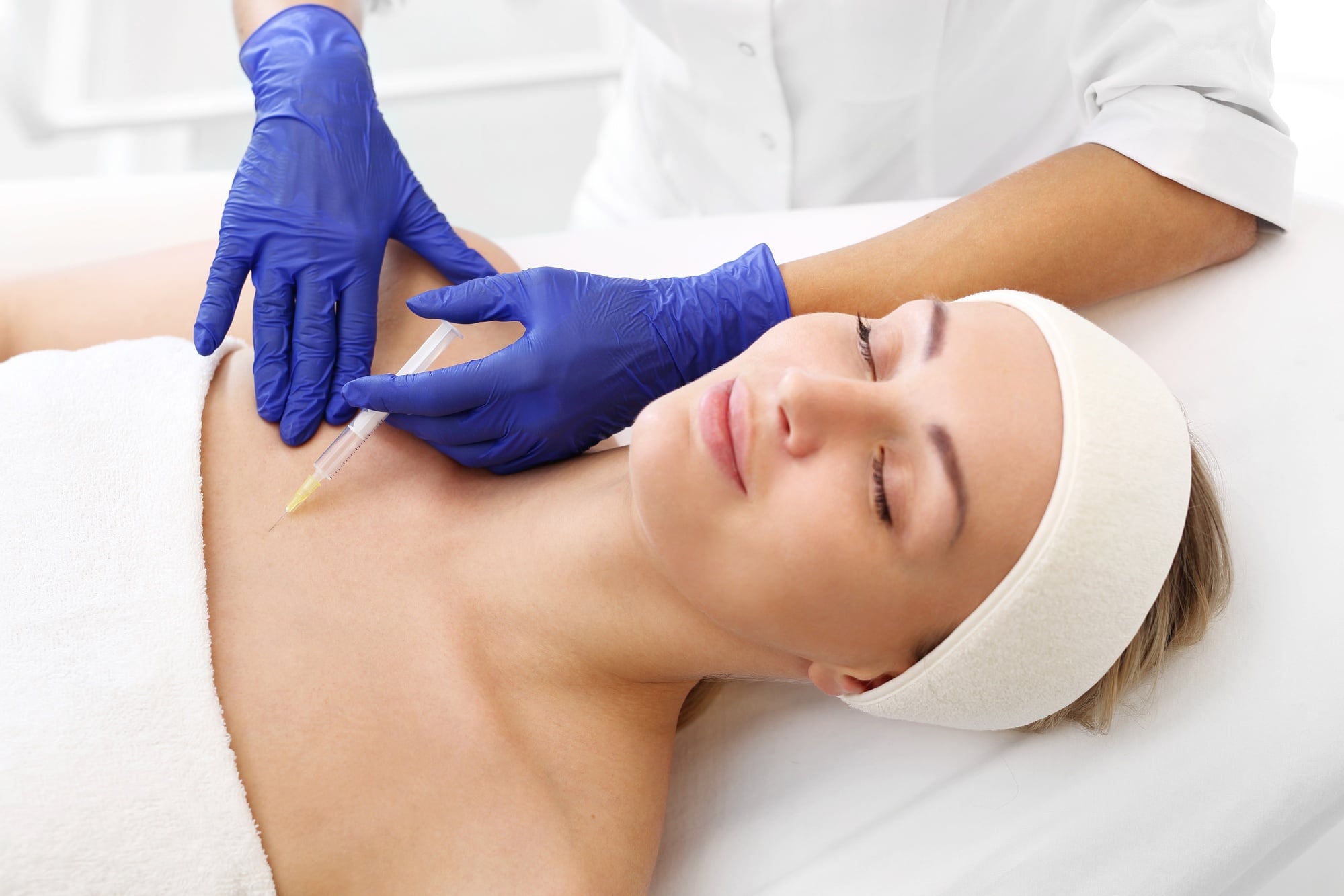 Dermal Fillers for Breast Augmentation: The Controversy
When dermal fillers were introduced to the world, suddenly there was a less-invasive alternative to plastic surgery.
When dermal fillers were introduced to the world, suddenly there was a less-invasive alternative to plastic surgery. Instead of a surgical facelift, called a rhytidectomy, patients could smooth their wrinkles or restore volume to sagging skin with injections. On a lunch break, patients could subtly improve their look, with their peers none the wiser. Hyaluronic acid-based fillers became especially popular, using substances found naturally throughout body tissues to temporarily restore dermal volume. This hyaluronic acid would eventually break down naturally within the body, leaving no trace, making it a relatively safe option for those seeking to reverse the signs of aging.
As popular as dermal fillers were for restoring facial volume, doctors soon began to expand their uses. The fillers can not only restore volume lost through illness or aging, they can also augment facial volume. Fillers can plump lips to create a pretty pout, augment cheeks for an apple-round look, and even add volume to reduce the look of a nose bump, giving patients a less-invasive alternative to rhinoplasty. Eventually, manufacturers introduced more robust fillers, with a higher hyaluronic acid concentration and better filling ability, suitable for other areas of the body. This allowed doctors to restore volume to indents left after liposuction, correct the appearance of scars, and even add volume to buttocks or calves. Not surprisingly, doctors soon began to use dermal fillers such as Macrolane VRF, introduced in 2008, for breast enhancement.
At the time, dermal fillers seemed like a great alternative to breast implants. With all the horror stories of silicone implants leaking, hyaluronic acid fillers sounded like a much safer alternative. Although the filler could not stably increase the breasts multiple cup sizes, unlike larger breast implants, it could add enough volume to bump patients up a cup size and to smooth and shape the breasts for a perkier, more youthful look. Many doctors in Europe began offering these "lunchtime boob jabs", helping patients improve the look of their breasts in a minimally-invasive and relatively-quick procedure.
Is Macrolane safe?
Macrolane gained approval in Europe and was considered safe when used in various areas of the body. Doctors offering the injections for breast enhancement reported high patient satisfaction and low rate of adverse events, similar to the results of injections in other areas of the body. The injections underneath breast tissue did not seem to affect the breast's function as far as breast feeding, so all seemed well for these popular treatments. Similar to facial injections, these body-contouring injections can cause mild bruising, discomfort, and swelling for a few days after the treatment, and there were some reports of more serious complications.
How does Macrolane work?
Macrolane VRF (volume restoration factor) is made of non-animal stabilized hyaluronic acid (NASHA) much like its facial counterpart, Restylane. However, Macrolane is much thicker, giving it the ability to fill a larger area without migrating and with long-lasting results. This can add volume to or shape the calves, buttocks, and other areas, and it can also even out skin affected by liposuction, surgical scars, and other deep depressions. Just like facial hyaluronic acid injections, Macrolane works by holding moisture within the skin to increase many times its volume. This helps add or restore volume and smooth the look of the skin's surface. Eventually, over the course of about twelve to eighteen months, the hyaluronic acid will break down. It is then eliminated from the body naturally, leaving no trace that it was ever there. An additional treatment at this time can help repeat the previous treatment's results.
How does Macrolane affect the breasts?
Many plastic surgeons in Europe used the filler for breast augmentation, and they maintained that it was not affecting breast function, such as breastfeeding, since they were injecting filler beneath the tissue. A group of respected surgeons also maintained, in 2008, that the injections would not compromise the detection, diagnosis, or management of breast disease.
Why is Macrolane for breast augmentation controversial?
The main controversy surrounding Macrolane for breast enhancement comes from some radiologists. These medical specialists are concerned the presence of dermal filler in breasts can interfere with mammogram imaging. The filler could cloud over an area, obscuring the view of a lump, so that a patient who may have breast cancer does not receive further examination and is not diagnosed. This is similar to the situation with silicone or saline implants and fat grafting, which can place a barrier between deeper breast tissue and the imaging equipment. Critics of the dermal filler breast augmentation procedure argue that, with only a few years' worth of data, long-term safety of this application has not been established.
What does the manufacturer say?
According to Q-med, a division of Galderma, clinical data suggests that although Macrolane may interfere with mammogram reading, it may not interfere as much as other types of treatment, such as fat grafting, since Macrolane is composed of 98% water. One particular study suggested that combining digital mammography and ultrasonography could result in an adequate examination. That said, data is somewhat limited, and longer-term data may be needed to establish Macrolane's safety for breast augmentation.
Because of the uncertainty about Macrolane's interference with mammograms, its manufacturer decided to discontinue the filler's indication for breast augmentation. Galderma now recommends doctors not use this body-contouring filler in the breast area, at least until the controversy is resolved. Further studies, and the test of time, may settle whether Macrolane's potential interference in mammography remains a concern.
What do plastic surgeons say?
Some plastic surgeons offering the breast-enhancement injections endorse the treatment's safety and patients' happiness with their results. However, in a survey by the British Association of Aesthetic Plastic Surgeons (BAAPS), one in four surgeons reported patient complications. Some patients needed corrective surgery after their Macrolane injections caused multiple areas of encapsulation and complications such as swelling and lumps.
It seems opinion on the minimally-invasive breast injections remains split. While some plastic surgeons maintain the effectiveness of these treatments, others continue to express concerns about safety and interference with imaging. For now at least, Macrolane is not officially approved for use in the breasts.
What other uses are there for Macrolane?
Despite the controversy over use of dermal fillers in the breasts, Macrolane is still useful in other areas of the body. Many doctors use this injectable to increase volume in areas such as the buttocks or calves, sculpting these areas to the desired look. Others use the injections to fill and smooth the look of surgical scars, other deep scars, uneven skin after liposuction, and other skin depressions. Macrolane remains an effective body-sculpting treatment and an alternative to more-invasive plastic surgery.
To learn more about Macrolane VRF-20 and VRF-30, or to purchase these body-contouring fillers, visit Doctor Medica today or contact one of our helpful customer service representatives at 1-866-343-2413.